This is the Xiaomi Mi Band 4 that I bought again after using Mi Band 2 3 years ago.
The biggest feature of Xiaomi Mi Band 4 is that it is the first device in the series to officially support Korean .
Also , one of the features is that you can use a smart watch at a low price of 31900 won ! hehe
Xiaomi Mi Band 4 Spec
| | |
| --- | --- |
| Memory | 512KB RAM, 16MB internal memory |
| display | 0.95 inch 120 x 240 AMOLEDMulti-touch capacitive touch screen, 2.5D glass, 24bit, 400nit |
| network | Mobile communication not supportedProximityBluetooth 5.0 |
| battery | Built-in LiPo 135 mAh |
| operating system | Own operating system |
| size | 21.6 x 10.8 x 12 mm, 22.1 g (including strap) |
| Terminal information | Dedicated charging terminal |
| Etc | 5 ATM water resistant support, built-in heart rate sensor, NFC support |
| Whether to support AOD | X |
| price | KRW 31900 |
The specifications of Xiaomi Mi Band 4 are as above.
It has almost the same function as the previous work Mi Band 3, but it is said that Hangul support, music playback function and Mi AI (NFC version only) have been added.
---
Xiaomi Mi Band 4 Components
The components of Xiaomi Mi Band 4 are as above.
-manual
-charger
-Strap
-Xiaomi watch body
---
How to use Xiaomi Mi Band 4
Pairing with a smartphone
To use Xiaomi Band 4, you must first pair (connect) with a smartphone app. To connect, you need to install the Mi fit app on your smartphone.
① Install Mi fit application on smartphone
If you look at the manual, you can install the app through the QR code as above.
Or , you can search for related apps by typing Mi fit in the Google Play Store or Apple App Store .
② Membership registration and login, profile setting
After installing the app, you need to log in.
I signed up and logged in using my Google account.
Once you have created your profile, a window will appear asking if you want to allow Bluetooth .
Since Smarfton and Mi Band 4 use Bluetooth, you need to allow this.
③ Miband 4 connection
Click'Band' in Select a device to connect to.
When prompted to connect to the phone, touch the V
Pairing proceeds.
④ Smartphone app settings
It allows access to health data for linkage between Mefit and Apple's health app.
I have all functions turned on.
In addition to this, it finds and activates necessary functions.
Since Mi Band 4 does not have an AOD function, I turned on the'Raise wrist to check information'function.
This function turns on the display automatically when movement of the Mi-Band screen toward the face occurs.
In addition to this, night mode and weather settings were added.
⑤ Confirmation of Miband 4 pairing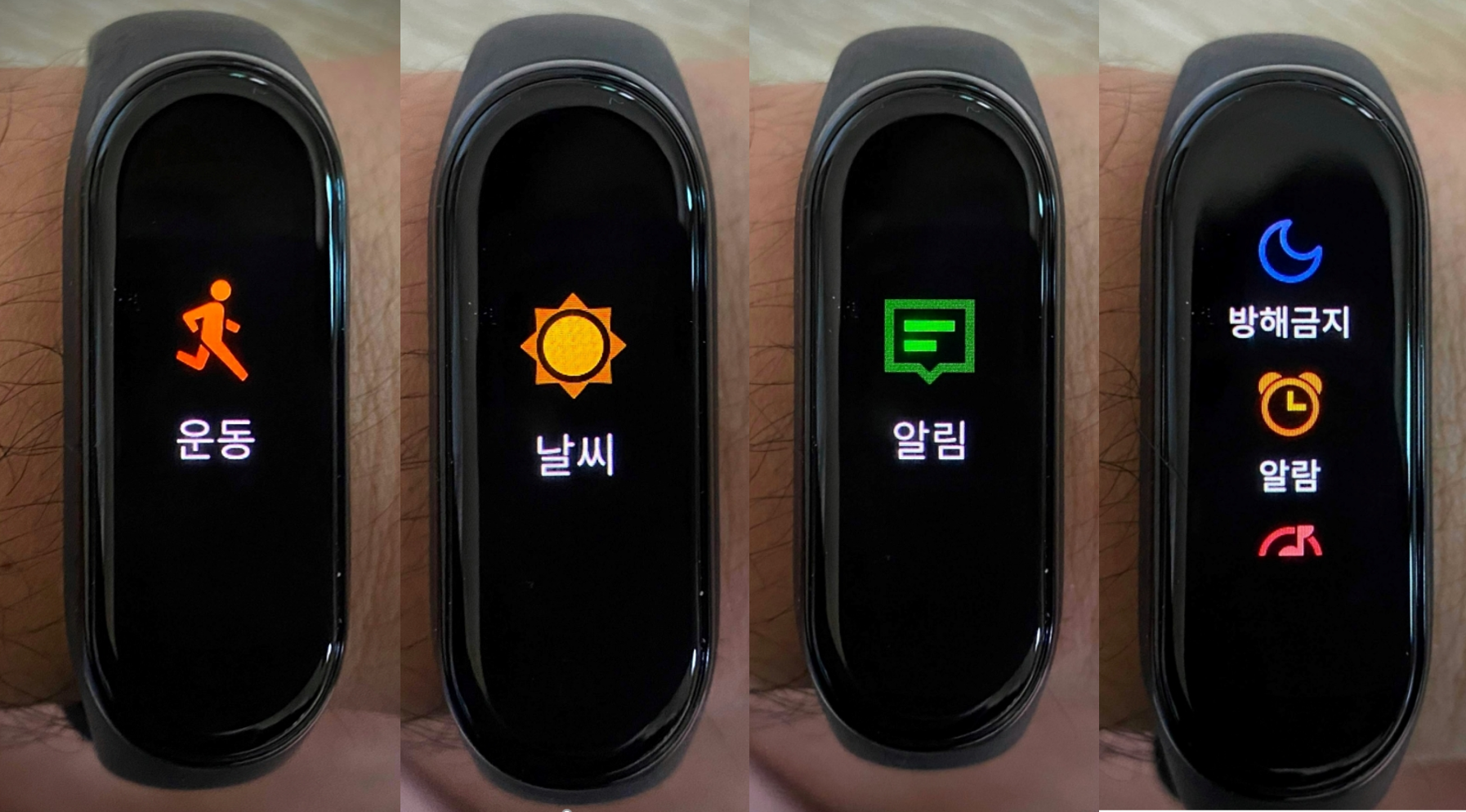 If you scroll up and down the screen of Mi Band, you can check the functions supported by Mi Band 4 by item.
⑥ Change the wallpaper of Xiaomi Mi Band 4
You can also change the wallpaper of Mi Band 4 by pressing the band screen setting.
There are several wallpapers supported, and if you choose a template you like and apply it, it will be applied to Mi Band 4.
You can see that the wallpaper of Mi Band 4 has changed with the iPhone X-like wallpaper.
Personally, I use Mi Band 4 for clock check, alarm and step count.
It seems that there is no problem at all to use it for that purpose.
Next time, I will post about the reviews I felt after using Mi Band 4.
Thank you for watching the long text.